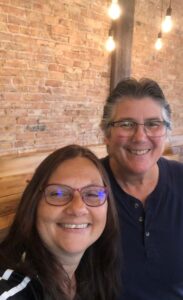 My name is Mo Collins and I am a Licensed Professional Counselor and a Clinical Substance Abuse Counselor. I am a Certified Clinical Trauma Specialist and utilize advanced mind-body therapies such as EMDR and Brainspotting to help my clients process trauma and reduce symptoms of PTSD.
I have not always been a therapist. I began my adult life in the military as a jet mechanic. After being honorably discharged, I worked in the machine tool industry for about ten years. I made a career choice to go into the service industry. I began working for a copier sales and service company. I have always been a very independent soul, so after gaining enough knowledge and a marketable skill, I started my own copier service and sales company. I started that business in the midst of an economic turndown. Some may think that was a risky move but as it turned out, it was a great choice. My philosophy was to help companies by fixing their old equipment until the economy got better, then they could purchase new equipment. I learned then that it is all about relationships. My business grew by simply building strong relationships.
In 2009, the economy again crashed and tragedy struck my personal life. My partner died of an accidental overdose from prescription drugs. She struggled with Depression and after being let down by the medical system, she turned to a "healer". The advice and direction given to her by this person resulted in more pain and ultimately her death. This tragedy became the springboard of my journey into counseling.
After seeking my own counseling to make sense of my grief, I dedicated the next eight years of my life to getting the education and licensing needed to become a counselor. I achieved my substance abuse certification before starting my Bachelor Degree in Human Services. My electronics degree did not transfer well into the Human Services field so I attended two universities at the same time in order to earn my Human Services degree.
I was then accepted into the Counselor Education Program at the University of Wisconsin – Whitewater. After graduating I worked to gain the necessary hours to get my LPC license. Still being a free-spirit, I opened my private practice focusing on trauma. This time I started my business in a pandemic. Apparently, timing is everything.
I knew nothing about working with insurance companies or the tedious credentialing process. I quickly found it overwhelming. I then found Michelle, the owner of Billing Specialist Services. I am not sure if she wears a super hero cape to work but she should. From the first conversation, Michelle calmed my fears and put together a plan to help me get the essential parts of my business underway. She did it with such ease and professionalism.
After being in practice for about a year, I was still seeing some people who had insurance but their health system insurance would not pay for services outside of their system. These people were paying out of pocket for their mental health services. After reapplying to these companies to be credentialed and being denied a second time, Michelle advocated for my clients and myself. Within two weeks of Michelle's efforts, these health systems reconsidered and my clients no longer had to pay out of pocket for their mental health needs.
Michelle also takes care of all my billing and my recertifications. It is always finished in a timely manner and she often catches my mistakes. I could not have started my private practice without Michelle. I owe my success to Michelle and the Billing Specialist Services team.